Welcome to our new website!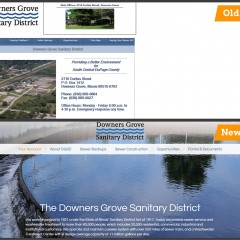 We are proud to announce the release of our newly redesigned website. The site was created with our customers in mind to be more user-friendly and easier to navigate. We hope the streamlined appearance and improved content organization makes it easier for you to find information you need.
On the homepage you can find following components:
Top navigation menu
What We Do
DGSD news
Government
Wastewater Treatment Center
Biosolids
Educational Opportunities
Bottom navigation menu
Top navigation menu
The top navigation menu appears on all of the website pages. Users can return to the homepage by clicking on the Downers Grove Sanitary District logo located at the top center of every page.
Informational content has been structured under the following categories:
Your Account – information about your sewer bill including payment options
About DGSD – DGSD history, service area and key staff members
Sewer Backups – learn about the sewer system programs available to our customers
Sewer Construction – information about connecting to the sanitary sewer
Opportunities – job opportunities and used equipment or vehicles sales
Forms & Documents – all of our forms and documents
Bottom navigation menu
The bottom navigation menu provides links to important information including our locations, public notices and the site map. It also provides our contact information and a link to our Contact Us form.
If you have any questions regarding the new website, please contact us at 630-969-0664 or through our Contact Us page.