District performs Stanley Ave. Sewer Lining Rehabilitation Project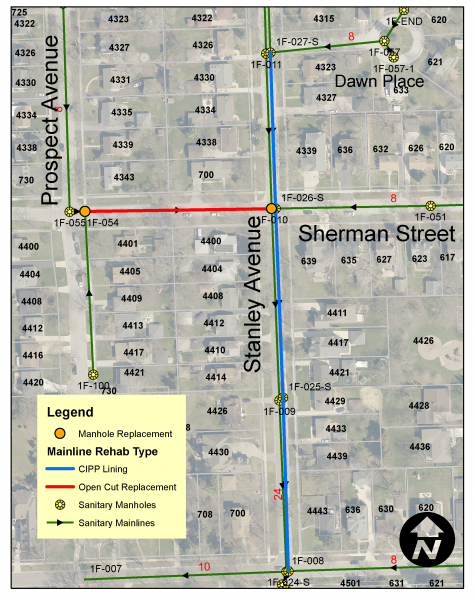 Beginning within the next several weeks, a contractor by the name of Insituform Technologies, will be doing some sewer reconstruction on Stanley Avenue between Ogden Avenue and Grant Avenue in Downers Grove. Instead of digging up and replacing the old pipeline, a process called lining will be utilized to reconstruct approximately 1,550 Ft. of badly deteriorated sewer.
During the lining operation there will be equipment set up at the sanitary sewer manholes on Stanley Avenue, there will be equipment set up at the manhole south of Ogden Avenue and at the manholes at the intersections of Sherman Street and Grant Avenue. The majority of the equipment will be set up at the intersection of Stanley Avenue and Sherman Street. This intersection will have limited access and may be blocked to traffic at times. Some of this equipment may be in place and running for up to 36 hours. Signage regarding the contractor's employees working and road closed signs will be posted as needed. We anticipate that this lining work will be completed within 48 hours being started.
If you should have any questions about this work, please call Downers Grove Sanitary District at (630) 969-0664.