Biosolids now available for delivery
Spring into the season with the District's FREE biosolids distribution program to enhance your lawn and landscaping. Starting March 15, the District is accepting biosolids delivery requests for residents and businesses. Biosolids is a byproduct from the wastewater purification process at our Treatment Center and is full of nutrients that are ideal for your flowerbeds, lawns or other landscaping needs. The District delivers biosolids free of charge in quantities starting at three cubic yards to much larger quantities. Please see below for our delivery area.
To schedule a delivery, you can submit a request using our online form at https://www.dgsd.org/biosolids/biosolids-delivery-request-form/. You can also call the District office during our business hours to request a delivery at (630) 969-0664. Please note that we receive and process your request on a first-come, first-serve basis during normal business hours. Once we receive your request, we'll have one of our Biosolids Mechanics contact you to arrange for delivery.
Biosolids Delivery Area – Minimum – 3 cubic yards
Within the boundaries of I-55 to the South, Route 83 to the East, Roosevelt Road to the North, and Naper Boulevard to the West, a minimum of 3 cubic yards is required per delivery (see below map).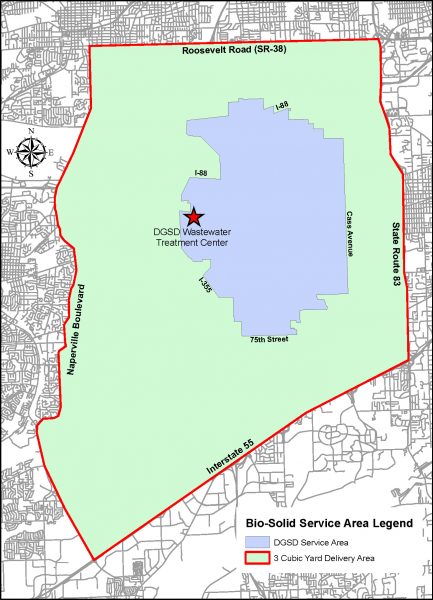 Extended Delivery Area – Minimum – 6 cubic yards
If you are located outside the Biosolids Delivery Area boundaries listed above, please give us a call at (630) 969-0664 to explore additional delivery options. We will deliver biosolids to reasonable distances outside the Biosolids Delivery Area at higher minimum quantities, starting at 6 cubic yards.